CSA 6
Today you will complete Module 7 of Ignition. After you have completed Modules 1-7 you can go to Typing.com or Free Typing. Be prepared to discuss Module 7 at the end of class.
Business

Your will work create their advertisement using the logo they created yesterday. This is still Part 7 of the Business Plan. You must create a business card using the template below and you should also create either a billboard or a flyer for your business. The template is an example your business card should look different than mine! Make a copy of the Template for the correct page size.
Powered by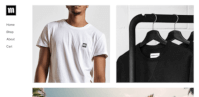 Create your own unique website with customizable templates.