CSA 6
Today you will complete Module 5 of Ignition. After you have completed Module 1-5 you can go to Typing.com or Free Typing. Be prepared to discuss Module 5 at the end of class.
Business
Today you will work on Part 6, Conclusion of your Business plan. This should be at least 8 sentences long. This will be the last thing someone sees when they look at your business plan. Be sure to include large details about your business. Check the Rubric for further instructions.
Powered by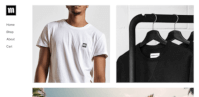 Create your own unique website with customizable templates.