CSA 6
Today will serve as a makeup day for Ignition, Modules 1-3 should be completed by the end of the day. I will be checking under my teacher account to see how you are progressing. After you have completed Module 1-3 you can go to Typing.com or Free Typing.
Business

Today you will work on Part 4 of your Business Plan project, Resources. This can be in list form. Be sure to think through each aspect of your Business not forgetting any resources. Use your notes from earlier lessons and the outline/rubric to help you.
Powered by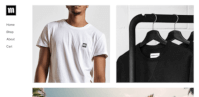 Create your own unique website with customizable templates.